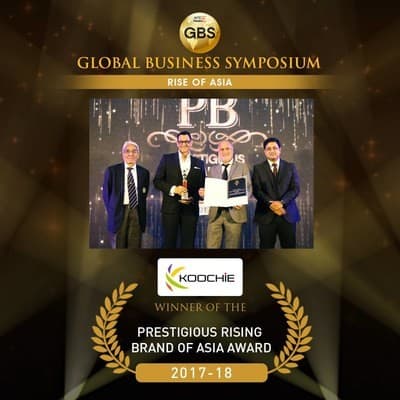 The year is ending and what better way to bid adieu, than to recapture the moments that made 2017 special. This year has been an astonishing year for us, besides being able to successfully ride the tumultuous wave in India thanks to the series of reforms, [beginning with demonetization, the introduction of RERA and finally the implementation of GST] we bagged the most prestigious brand award at a remarkable event in Thailand, that made us glad to be amongst those set of beacons who have reinforced a profound meaningful marketing connect with their customers.
As a brand, we received praises and accolades from across the globe, for setting up an organization that is dedicated to getting people Fit with our Get FIT programs, added to this we opened our 19th office this year in Milan, Italy. Our Joint Venture Partnerships with Galopín of Spain, a company with 30 years of rich heritage, being masters in pedagogy and PlayPlanet of Portugal that has rich experience in nouveau bespoke technology, KOOCHIE with its own pedigree, is today positioned as the only brand in this industry to have such a unique filiation that now allows it to offer playground equipment products and services like no other brand can.
With all good things, one tends to forget the journey that got us to where we are today. It is very important for us not to forget "who we were, before we became, who we are"… We are, after all, a brand built of humble beginnings – the year, 2004, all of us packed in a small little office with limited resources, the senior management themselves being installers, sales team, logistics [yes many of us actually even unloaded trucks] and designers, our modest budgets, our first project, our first certification in France, our first overseas branch….. wow, it all seems like a different world today …. Like every other start up and self funded business we had our share of hardship and woes, we lost many more than we won, even today we keep learning…… The outcome…. In just over a decade, this wonderful brand has blossomed into one of the most respected icons in our industry, now spanning 19 offices across 11 countries, we owe this to every single member of Team KOOCHIE Global and their undying passion and hard work in tirelessly sculpting this corporation to what it is today, we also owe this to each of our customers, those who specified us and all those who put their belief in us and continue to do so.
Over the years of being an entrepreneur, the one thing I've learnt is that to succeed, you need to be "Consistent" and Optimism is just another way of saying, always look at the bright side. When you set out to start something on your own, everything you think and consider as absolute, is a variable. You won't have the luxury of being "set in your ways" because the world is fast paced, dynamic and it is always the most adaptive of the species which survives and thrives. Despite the circumstances, the only thing that keeps you going is your optimistic mindset and developing one can do wonders for you when things seem out of control.
When you strategize all the efforts to overcome a hurdle and it works otherwise, you tend to ask yourself if you're doing it right or is there a right way to make it work??? From my experiences, I can tell you that 'the quality of your performance is always directly proportional to the quality of your practice'. It's important to take stock of what is going on well. Failures must leave you as optimistic as ever.
To be an entrepreneur, irrational optimism is necessary to systematically and continuously take on risk. But most of us aren't wired that way. In any form of work, I feel you need to be optimistic about the barriers you can break, tasks that you can accomplish and deliver in a certain amount of time. When you decide to tread the path as an entrepreneur, your convictions and financial decisions are positively correlated. Optimism aids you to be a better problem solver. As corny as it may sound, affirmations help to train your brain to think positively. Overtime, you will start to internalize them. Success requires tenacity and tenacity requires confidence. Finding a way to focus on the positives take time but needs good amount of practice to feel credible while venturing out of your comfort zones.
I loved every moment of 2017…… here's looking forward to an even better 2018..
Signing off, wishing each of you and your lovely families a fabulous New Years..
With all my warm regards, Roben Dass…